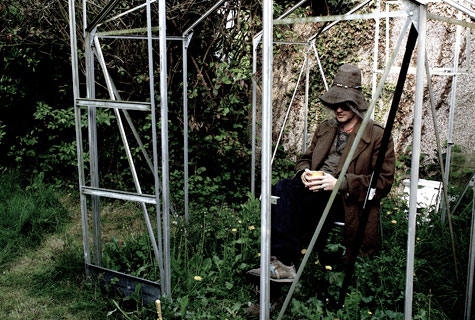 Reviews: Antronica
BLISS AQUAMARINE
by Kim Harten
Anton Barbeau goes electronic for his latest solo album. He explores Kraftwerk, DIY disco pop, and psych-rock in "Clubbing in Berlin," whilst "Magic Duck" sets quirky novelty lyrics to vintage synth music. "Dust Beneath My Wings" previously appeared in another form on the debut self-titled album by Anton's band Three Minute Tease; it's the off-centre take on retro pop familiar of Anton Barbeau, but this time minimally arranged with electric piano, drum machine, and a touch of banjo near the end. "Ginger Space Fade" is a mesmeric, repetitive piece combining instrumental psych-folk, birdsong samples, and whooshing spacey electronic sounds. "Psychedelic Mynde of Moses" is an electronic remake of a song Anton previously released on a 7" EP on Fruits de Mer Records, this time featuring burbling and shimmering electronics. Another Three Minute Tease track, the massively catchy "Thanks for Lifting My Leg," appears here as electronic powerpop. The final track listed on the sleeve, "Trouble was Born," is a quirky DIY electronic country song. But you don't just get the ten tracks listed on the sleeve; there are two bonus tracks, namely "Droan 1," in which Anton ventures into experimental ambient drone territory, and "Hmmm In G," which combines the humming suggested by the title with Hare Krishna chanting. The electronic emphasis may be a new direction for Anton Barbeau, but the strong tunes and off-kilter lyrical approach that typify Anton's music are still present and correct. A great album, well worth checking out.
© Anton Barbeau. Photo of Anton by Karen Eng. Web site: interbridge.
This text will be replaced by the flash music player.
Click here to open the player in a new window
Coming soon: