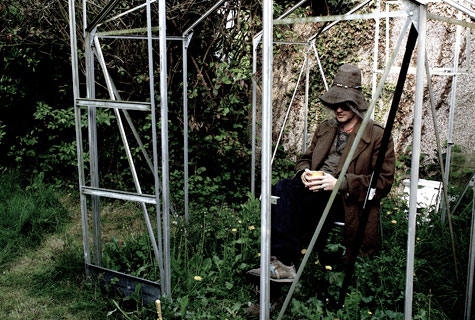 Reviews: Berliner Grotesk
MOOF
by Gareth Thompson
A native son of California, it's arguably his European influences that have shaped Anton Barbeau's music the most. Steeped in psych-rock and underground club-tronica, his work blends an unerring ear for melody with a zany eye for poetry. Maybe his finest hour came in 2018 on Natural Causes, a record that sounded like some lost meeting between Kevin Ayers and John Lennon. It really was that good: a love bomb of tunes that fairly mushroomed in your mind. Now comes Berliner Grotesk, imagined as part of a trilogy including Magic Act (from 2016) and Natural Causes.
Each hypnotic hoot of Barbeau's voice remains full of laughter and surprise. But anyone hoping for a sunsplashed repeat of the previous album should look away now. Think of Berliner Grotesk as more like returning to the scene of a summer romance. It's a case of looking for new experiences in the same place, rather than dwelling on the past. And the great conjuror certainly has some fresh tricks in his hat to amuse us. The title track's junky cabaret is akin to The Tiger Lillies or Agnes Bernelle and offers a thrillingly dark waltz. In a flash, the master of ceremonies is having a butcher's around London, as 'I Been To Bromley' gets bluesy with alehouse piano. A brief cover of 'Love Me Do' feels choppy and rootsy, reminding us what a groovy kinda polka the original was.
Maybe only Barbeau could pen an ode to some leg-humping canine and pull it off movingly. '
You might be god in a backwards way/But you're a little too forward with my leg today
' he croons on 'Down Weird Dog'. The electro-shuffle of 'The Gruff Exterminator' slyly gets you singing to stanzas born from fetish and melodrama, where the lead character has '
a velvet eyepatch and a thrice-broken nose
'. We're in the archly camp worlds of Marc Almond or
Neil Hannon here, but then come two tracks that highlight the great paradox that is Anton Barbeau.
Few others blessed with this man's melodic gift would shackle their commercial odds so wilfully. Instead of layering his dulcet tunes over bankable lyrics, he revels in doing the opposite. Even to the point of teasing. 'Baby Can You?' opens with the winning lines, 'Baby can you show me/How to know myself like you know me?' The stage is set for a chart-topping weepie, but Barbeau subverts this into an ode about homegrown stuff and inner questing. More dreamlike balladry on 'Horns' then morphs into something quite sorcerous. Maybe this is why we must revere Barbeau – he'll always belong to us and not to 'them'.
Elsewhere there's the zany serenade of 'Not The World's Most Wave-Formed Man', a sweeping parable in 'Disaster On Sandwich Island' and euphoric radio-rock on 'don'tforgettogetyourfingerwet'. The twilit closer 'Boxcat Blues' is a twinkling elegy with jumbles of Pythonesque and Dantean imagery.
Subversive as ever, Barbeau offers another shot of haywire genius on Berliner Grotesk. Only a total tomfool would resist this madcap's embrace.
BIG BEAUTIFUL NOISE
by Lee Henderson
Thirty minutes of under the circus top, slightly waggish, waltzing, motley and sometimes mysterious, lonely dark ballads. And then the quasi psychedelic, often haunted stage performances, by what could be an abandoned child from Bob Dylan or Mike Scott (The Waterboys), give the listener a show that must go on. This is the third (and completion) of Anton's 'Transfiguration Trilogy'. The first was Magic Act, followed by Natural Causes. Both of those were brilliant. Although he never originally intended these to be a trilogy, the final products resulted in the connected project. At least in Barbeau's eyes... He has talent for a clever chemistry of hook filled tunes among off kilter rock, and is very generous with it.
He was born in Sacramento, California, but now lives in Berlin. After approximately twenty albums, and working with members of XTC, The Soft Boys, Bevis Frond, Cake, Loud Family, to name a few, Barbeau shows his skills once again in high level song writing, on Berliner Grotesk. The carnival atmosphere sounds natural to his compositions, and some Beatles-like gems appear without effort, in a perfectly linear way. I mentioned Bob Dylan, and his voice reminds me of that man a bit (but more like Mike Scott who I adore), however I prefer Anton's voice by a landslide, I also love his lyrics much more, as I find both the delivery more sincere and valid. The music occupies a place of moveable feast, reality in spades, and life experience tribute. This album is too short, but very top notch in song writing and a superb end to his trilogy.
It's always good to check in with where Anton's mind is at currently. Syd Barrett—Robyn Hitchcock—Julian Cope—Anton Barbeau. A logical progression. I like this one a lot. It's pretty much just keyboards and vocals. Makes for an intimate listen. Check out 'Horns'. You're in the room with him as he plays. I like this basic approach. Perhaps the grandest production is the waltzing title track. A few years living in Berlin and a little cabaret can't help but seep in. Surreal and dark. There's hints of a 21st century Arnold Layne in 'The Gruff Exterminator'. Bevis Frond is name-checked in 'I Been To Bromley' and there's even a totally unexpected version of 'Love Me Do' but as light reggae! It works though. Let's face it, that track has been left forgotten about except for appearing now and then on compilations as a pointer to where it all began. Anton's actually made it work for its living again. Superb melodies, good vocal arrangements and plenty of imagination throughout the album, there's nothing wrong with where Mr B. is at for the moment. The more I listen, the more I think it's actually got the makings of a modern masterpiece about it. I'll stick my neck out...
Hailing from Sacramento via Berlin, Anton Barbeau's final instalment in his Transfiguration Trilogy could easily have been written from the eye of the Uffington Horse itself. In essence, it's a charming dark cabaret, which crosses into the realm of a new modern condition. Here, a Neo-Weimar school hall piano isn't entirely apart from Brechtian trickery, and the sensibilities of the Threepenny Opera.
Tracks such as 'Not the World's Most Wave-Formed Man' feature the generational trumpet that would be comfy-cosy on a Scott Walker B-Side. Others such as 'I Been to Bromley' (which makes a direct reference to Anton's work with The Bevis Frond) and 'Boxcat Blues' have a tender wit that lets the heads know that this record is firmly within Julian Cope's stone circle.
If you're not familiar with Anton Barbeau, rest assured that he's done some pretty cool stuff. A bibliography full of italics that goes something like 'folk from XTC, The Soft Boys, the Loud Family, et al'. A body of work that seems to respect you as its recipient precisely because it makes no immediate claim on your base understanding. Instead, it cuts you some breathing space to apply whatever you get from it intuitively and sympathetically.
But, back to Berliner Grotesk. It's smart, it's catchy, it's cool, it's synth-peppered with transcendence, and it's got some right-on beats and some good pacifistic left hooks. Charming, intriguing, wordy (see "Cain said to Abel put the sable on, and Abel said to Cain 'I much prefer chiffon.'"). You know that red shape in Magritte's The Banquet? This addition to your record collection has a similar resonance. Stick a red sphere in the woods and wonder if it's an illusion.
Blackbird pie, sharp as a German leather whip. Nuance supports the abstraction upon which good cabaret depends. Said with a great deal of conviction—you'll want to have a cup of tea with this one.
Gewoonlijk presenteert Barbeau zich als (power)popartiest, maar op deze nieuwe plaat voor het Pink Hedgehog-label doet de cultheld zich vooral gelden als toetsenist/singer-songwriter. Nog altijd met een onmiskenbare popinslag resulteert het in een van zijn mooiste platen.
Barbeau usually presents himself as a (power) pop artist, but on this new record for the Pink Hedgehog label, the cult hero is primarily a keyboardist / singer-songwriter. Still with an unmistakable pop impact, it results in one of his most beautiful albums.
© Anton Barbeau. Photo of Anton by Karen Eng. Web site: interbridge.
Available now: