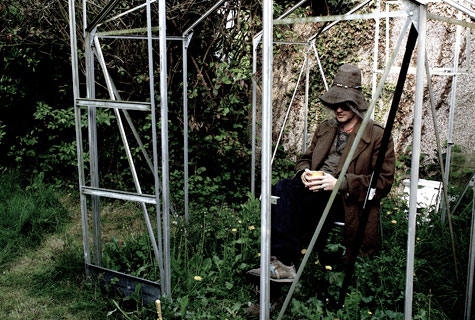 Reviews: Natural Causes
THE BIG TAKEOVER
At 25 years and almost 20 albums (and counting), Barbeau is no stranger to fans of eclectic pop rock. That said, the Sacramento-to-Berlin songwriter/multi-instrumentalist's new LP functions as an introduction. Re-recording old songs and adding a few new ones, he presents a resumé of sorts—a series of tracks demonstrating what he does best. As always, he veers from the quirkiness of "It's the Coffee That Makes the Man Go Mad" and "Neck Pillow" to the accessibility of "Summer of Gold," "Magazine Street," and the powerhouse "Just Passing By." But it's his remarkable ability to wrap some truly odd ruminations on "Creepy Tray" and "Secretion of the Wafer" in melodies the Beatles would happily own that makes Barbeau special.
Once again, Anton Barbeau is an instant favorite here in babysueland. We're been blown away by this guy's music in the past so we were psyched as hell to receive this, his latest album. Prior to recording Natural Causes Barbeau was working on something called the "Applewax project." That project wasn't going as planned, so Anton switched channels and began recording this album. Apparently an excellent move, because these tracks will please the same folks who were so impressed with Magic Act (Barbeau's last album). Causes contains some remakes ("Magazine Street," "Creepy Tray," "Just Passing By"), some songs rescued from the Applewax project, and some that are brand new. Anton plays most of the instruments but the album also features the talents of an extraordinary group of folks (too many to mention here, but take our word for it... this guy associates with some amazing folks). These classic guitar-driven pop tracks may remind listeners of The Young Fresh Fellows or even David Bowie at times. The chord progressions are smart, the melodies wonderfully effervescent, and the vocals absolutely hit the target dead on. Add killer arrangements and thought provoking lyrics into the equation... and you end up with pure pop magic. This is one of those rare cases where everything works. Killer cuts include "Magazine Street," "Disambiguation," "Magic Sandwiches," "Neck Pillow," and "Down Around the Radio." Highly recommended. TOP PICK.
Joined by an assortment of guest musicians, whose collective CV includes The Pretenders, Paul McCartney, the Bevis Frond, Todd Rundgren and The Soft Boys among others, multi-instrumentalist Barbeau has shaped an album of idiosyncratic, acid tinged, "pre-apocalyptic Psychedelic Pop" songs drenched in ancient Mellotrons, analog synths and 12-string guitars... A stunningly brilliant record of fantastic, quirky, timeless Psych Pop that any discerning PsychHead really needs to hear. We gotta admit that down in our psychedelic basement, even though we are massive fans of Cope, Hitchcock, XTC and the Bevis Frond, the psychedelic sounds of Anton Barbeau had gone way below our radar until this beauty dropped through the post portal, so Natural Causes works as both an introduction for new fans of the "cult hero's cult hero" and a sparkly reminder for those that have tried to follow Anton Barbeau through his limited releases on obscure indies for a while now. Check this out People, you won't be disappointed.
© Anton Barbeau. Photo of Anton by Karen Eng. Web site: interbridge.
This text will be replaced by the flash music player.
Click here to open the player in a new window
Coming soon: