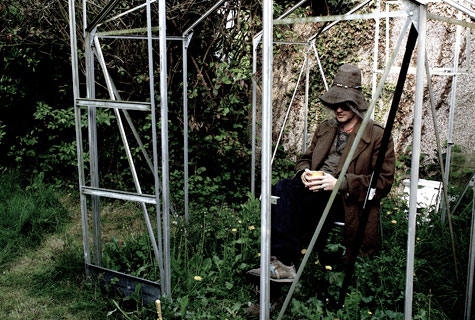 Reviews: Oh The Joys We Live For
LOUDER THAN WAR
by Ian Canty
For me there is always more than a frisson of excitement whenever a new album by Anton Barbeau arrives. I haven't much doubt that he is one of the most inventive minds in pop music today, often pushing into new, uncharted territory, but never forgetting the essence of pop music is a good tune. Thankfully his prodigious output doesn't result in any fall off in quality and his voice and unique lyrical standpoint act together to provide a focus throughout this new album Oh The Joys We Live For. For me this helps to grant the listener a pleasant sense of continuity, whatever musical waters his muse chooses to sail into.
The LP starts off with the title track Oh The Joys We Live For, a vocoder voice taking us into a sunny but haunting folk rock melody with a lyric that touches on the subject of "pierced nipples" for some reason. Cowbell Camembert then slots into place, a carefree electro-driven piece that also includes a cracking 60s style guitar sound. The unlikely vision in the tale of disco kittens somehow sitting in judgement on disco kids is an inspired delight.
One Of Her Superpowers comes over as more an acoustic guitar-driven thing, with the band kicking in nicely after the intro. This is how to make great, oddball pop/rock. Representing a step away from what has gone before, the oddly-named Filmik has a cool choral drift courtesy of Rosie Abbott's double, triple or possibly quadruple-tracked vocal and moves with purpose to hip hop electro percussion. It is, in the words of the composer, "a tiny soundtrack to an invisible film." As unlikely as this may seem, it makes undoubted sense upon hearing it.
Next comes Crystals, a stand-out track of Oh The Joys We Live For. With a laidback, cool flow, Anton is at his most unguarded and meditative here holding forth on typically unusual subject matter, something which renders the whole thing positively lovely. When Life Brings Your Beer seems a song of the delights of a stable, happy life, but this tune also has great guitar work and lopes along merrily at its own pace. Coming at domestic issues from the other direction, I Love It When She Does The Dishes is more to do with mundanity eventually breeding dissatisfaction. The music is propelled by a spongy bass line and Sharron Kraus' plaintive recorder. This one also contains some backwards guitar from Bryan Poole and Julia VBH's well-judged and performed vocalising.
On the face of it a driving pop song with a touch of darkness, It's Alright Rosie is actually a sensitive, thoughtful ode to one of Anton's cats. The very pretty psychedelic feel, something which is usually somewhere in the background on Oh The Joys We Live For, comes to the forefront for a brief moment at the start of Three Days The Death Enigma. Then it slowly becomes sonically more sombre, as to fit the pitch-black darkness of a lyric which references both infanticide and suicide.
Mortality recurs as a topic on the next number Die Smiling, though it is somewhat lighter in tone. A meaty guitar line and electric clicks play against Fred Quinten's soloing saxophone nicely here and this tune is immediately followed by Salt Lick. A fuzzy, upbeat number that is a catchy as the mumps, Salt Lick is perfect pop music with tonnes of character and deserves to be heard much more widely. Just like the vast majority of Anton Barbeau's work in fact.
The album ends on a real high with I Been Thinking 'Bout You, a blast of pure jangle pop rock goodness that is both thoroughly intoxicating and beautifully put together. At one point Barbeau declares that he's "a teenage man in a minivan squeezing milk from an old cuppa tea" – I'm not sure exactly what that means other than a flashback to youth's straightening circumstances, but it is a great line among many others on a record that will no doubt reveal further layers on each subsequent play.
Oh The Joys We Live For is another engrossing and entertaining collection from Anton, an album that opens up a whole world of ideas and sounds for the listener if they are willing to hear it. If you're new to his work, this new LP is as good a place as any to begin. A fine record that may well stimulate further investigation into Anton Barbeau's sizable and top quality oeuvre – and what a lot there is there for you to discover!
KNOCK AND KNOWALL
by Eric Sandberg
Rating: *****
Anton Barbeau never ceases to amaze in every aspect. His skill as a composer, lyricist, arranger, engineer and self-producer are nothing short of astounding. That he seemingly purposely does the bare minimum to expose his incredible talent to the world—no manager, no agent—is also a bit jaw-dropping. He just writes and records brilliant kooky song after brilliant kooky song, always knowing exactly the right instruments and keyboard textures to use on each.
Oh The Joys We Live For briefly appeared on streaming platforms last year while Barbeau was "promoting" his thoroughly immersive double CD tour de force Manbird. It was removed and retooled, with five songs swapped out in favor of new ones. The result is a near perfect 12-song collection of psychedelic pop whimsy, with a more than occasional dark edge, if you're paying close attention. The folks at Big Stir Records like it so much they are issuing the album in a spiffy CD package.
The title track lists puppies, nipple rings and fallen apples, too mushy to kick, as some of the litany of life's joys, while the 12-string driven "Cowbell Camembert" is perhaps an answer song to Robyn Hitchcock's "Cheese Alarm." "One of her Super Powers," "When Life Brings You Beer" and "I love It When She Does the Dishes" provide a glimpse of Barbeau's quarantined life on the farm with his now wife, Julia VBHB, who also contributes lovely harmony vocals throughout the album, although "Dishes" appears to conclude on a note of violent intent.
"Filmik" provides a bit of a departure with a dramatic orchestral keyboard theme which at once evokes The Church's "Happy Hunting Ground" and The Beatles "Blue Jay Way." "It's Alright Rosie" can barely contain it's anger as the album veers into more overtly darker themes with "Three Days Death Enigma," "Die Smiling" and the poignant "Salt Lick" which refers to a mother's tears.
Throughout, Barbeau's ingenious lyrics, which teem with 'Easter egg' style references, are supported by melodic constructions that rival the best composers in the business he is marginally a part of.
If I have at all piqued your interest in taking the Barbeau plunge, Oh The Joys We Live For is a terrific place to start.
I DON'T HEAR A SINGLE
by Ian Rushbury
It's a ballsy move to call your album Oh The Joys We Live For, when the entire world is living in fear of plague and pestilence, but Anton Barbeau has never really paid much attention to the contemporary zeitgeist. He does what he likes and this year, he's made yet another folk-pop-psychedelic-indie-outsider record that sounds a lot like a lot of his other records, only more so. In other words, it's another great record.
Hot on the heels of last years, sprawling (by law, all double albums have to be referred to as "Sprawling") double album Manbird comes Oh The Joys We Live For. To make a lazy, Fab Four comparison, if Manbird was The White Album, then the new record is Abbey Road. Sort of. There's a lovely lightness of touch throughout all twelve tunes and a hearty disregard for any sort of linear thread. It's like the best jukebox in the world, but all the songs are sung by the same bloke.
If Manbird had an agenda, Oh The Joys We Live For exists for just the joy of being around. The title track leads us gently, but firmly into the album which was recorded on a farm in Sacramento with minimal equipment, but maximum imagination. If you can't make good music with just an acoustic guitar, an electric 12-string, a Hofner bass and your software of choice, then possibly you should consider another profession. The 12-string gets a workout on Cowbell Camembert which manages to survive having the most twee title since Tallulah Gosh hung up their anoraks and turns out to be a cool hybrid of early eighties disco and Lloyd Cole and the Commotions. Well, I think so anyway.
One of her Superpowers has the best opening line of the year so far: "One of her superpowers / Is leaving things as they are." You have to admit, it's an attention grabber. Fortunately, that seminal line is bolted to a top-drawer tune with a little bit of McGuinn thrown in.
Three Days The Death Enigma is like Jacques Brel arranged for 1980s, entry level synths. The flute (well, I think it's a flute) sounds a bit like a bowed saw and is lovely and a bit scary at the same time. That's a good combination. Talking of the eighties, there's quite a whiff of the decade that gave us the snood, all over Oh The Joys We Live For. Die Smiling for example. The keyboards and parping sax sound like an alternate reality version of Flesh and Blood era Roxy Music, on a budget of less than the price of a modest round of drinks.
What is surprising about this record, and Barbeau's recorded output in general, is the consistent quality. He seems to crank these albums out without a care in the world and they're never less than pretty great. Oh The Joys We Live For is charming, playful, airy and delicious. Isolation suits him.
ROCK 'N ROLL TRUTH
by Robert Kinsler
You might like if you enjoy: Van Dyke Parks, Matthew Sweet, XTC
Tell me more: The followup to 2019's Manbird, Anton Barbeau's new album Oh The Joys We Live For is a tuneful and intoxicating listen. The dozen-track collection showcases Barbeau's signature vocals, experimental knack and far-flung songcraft. Oh The Joys We Live For was created during the pandemic with the artist using the seclusion to create a reflective album that captures the spirit of this unique time. Assisted by his musical collaborator and now-wife Julia Boorinakis Harper, the ambition of the project never diminishes the accessibility of the songs (just listen to the artful power pop-aimed "I Been Thinking Bout You"). The introspective title cut, driving "Cowbell Camembert," orchestral-tinged "Filmik," dream-drenched "Crystals," art rocker "Salt Lick" and enthralling single "One Of Her Superpowers" are among the memorable tracks on the fantastic album.
MONOLITH COCKTAIL
by Brian 'Bordello' Shea
There is something quite beautiful about this album. There is a beauty in the way Anton describes life with a slightly outsider eccentric point of view. This is an album of perfect domesticity, an album that takes the mundane and every day and makes it magical. The final track for instance, the Beatley 'I Been Thinking Of You', beneath the chiming guitars and perfect beatastic melody lies a song of love, wanting, escape and the mundane ("I am a teenage man in a minivan squeezing milk for an old cup of tea"). And that is a special talent to have: not squeezing milk for a cup of tea, although that does indeed come in handy, but being able to take the everyday and paint a velvet wash of lyrical surrealism that is based on everyday life.
Anton Barbeau has that special lyrical knack/talent of doing so, a little like what the great Julian Cope also does, and can draw a warm smile on the listeners face with his words of poetic delight. The music and melodies that wrap around the fine lyrics are drawn from a love of folk/synth pop and psych and a little dose of experimental guitar pop; in fact some of the songs could be described as synth folk: 'Cowbell Camembert' being a perfect example: squelchy synth, a simple disco drum machine beat and chiming 12 string guitars; as if Roger McGuinn had joined the Legendary Pink Dots for an evening. 'Oh The Joys We Live For' is an album of love, warmth and humour, and like this album is something we all need in our life.
HERE COMES THE FLOOD
by Hans Werksman
After the sprawling concept album Manbird, it is back to basics—well, sort of—for Anton Barbeau. The underground psych-pop maestro offers a collection of songs about life, love, death and beer on new one, Oh The Joys We Live For. He is in fine form—some artists are just not capable of making a shit album—with his sharp eye and ear to find inspiration, and it doesn't matter if it is mundane or highbrow. The tender I Love It When She Does The Dishes, with lovely backing vocals by Julia VBH and Sharron Kraus, sits comfortably to the barely contained anger of It's Alright Rosie—apparently Barbeau can run out of patience after all—and the horror of Three Days The Death Enigma. His knack for surrealistic lyrics is allowed to roam free in Salt Lick (spoiler: it has to do with tears, minerals, and there is bucket involved).
The title track Oh The Joys We Live For is a plea to count your blessings and the joyous When Life Brings You Beer is a dead ringer for summer playlists. Just to show that he can write outside the pop formula, Barbeau included the cinematic instrumental Filmik. He puts the polyphonic analog synthesizers Prophet-6 and Prophet-5 to good use in Die Smiling, a track that fans of Steven Wilson will like. He has been releasing solo albums since 1993, catering to an appreciative fan base who can't believe their luck that their hero is so prolific—33 albums and counting.
IT'S PSYCHEDELIC BABY
by Beverly Paterson
Anton Barbeau's passion for fringe-driven pop rock has culminated into an interesting and inspiring body of work that now spans nearly thirty years.
The prolific singer, songwriter and multi-dimensional instrumentalist—along with his wife and musical partner Julia Boorinakis Harper—recently moved from Berlin, Germany to a farm located outside his hometown of Sacramento, California. Much of the material contained on Anton's latest album, 'Oh The Joys We Live For' relates to the couple's life in their new surroundings.
The title track of the album conveys a gentle acoustic folk feel, and the absolutely irresistible 'I Been Thinking 'Bout You' rates as a jubilant burst of power pop perfection; swarming with chiming twelve-string guitars, mouth-watering melodies and a kooky chorus of "gobbly goo gobbly goo gobbly goo " tossed in for good measure.
Brandishing an appealing brogue that lends a tip of the tongue to both John Lennon and Donovan, Anton sings his imaginatively-structured songs to an air of kaleidoscopic wonder. As an example, there's the dreamy 'Crystals', which is beaded with jingling bells and feathery synthesizer trills, while the hypnotic 'I Love It When She Does The Dishes' touches on Calypso and reggae influences.
Another top pick presented on 'Oh The Joys We Live For' is 'Cowbell Camembert' that gallops to an enterprising arrangement of plucky hooks and bumpy and bouncy rhythms, not to mention the clanging sound of a cowbell. A big and dramatic orchestral production, backed by chanting harmonies, 'Filmik' also floats in as a showstopper, as well as 'Salt Lick', which rolls to a locomotive beat and features some really gnarly guitar moves.
But as a whole, 'Oh The Joys We Live For' is an excellent and entertaining album. Anton has always thrived on embracing novel ideas and techniques, and these songs adhere to such a policy. Quirky and playful, 'Oh The Joys We Live For' accents the creative spirit of our favorite cult figure on each and every cut. Anton Barbeau truly exists in a class of his own, and this album certainly extends his credible reputation.
© Anton Barbeau. Photo of Anton by Karen Eng. Web site: interbridge.
Support Anton on PayPal: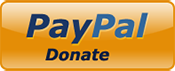 Available now: