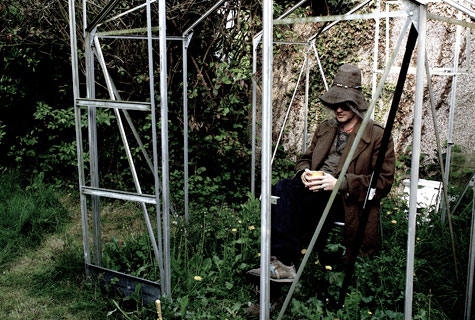 Reviews: Plastic Guitar
THE SUNDAY TIMES (LONDON)
by Stewart Lee
The transplanted Californian pysch-pop wunderkind Anton Barbeau has issued six albums from his Cambridge bolt hole in the past three years alone. Yet, while his heroes Julian Cope, Robyn Hitchcock and XTC's Andy Partridge spew copious volumes of lysergic miniatures in the wake of once widespread fame, Barbeau has arrived at cult status from a standing start. His 17th release opens misleadingly with the drum-machine clatter of "Bending Like a Spoon," so skip to the baroque hymnal of "Boat Called Home," the echo chamber acoustic ballad "Say It with Ease" and "Banana Song," a nonsense anthem recalling the Rutles' tea-drinking period.
THE BIG TAKEOVER
by Michael Toland
Plastic Guitar is the umpteenth album by Sacramento/Oxford-based singer/songwriter Anton Barbeau. For those who've followed the impish psych popster over the course of his career, it'll be no surprise that this is a strong record. Barbeau is one of those rare artists who seem incapable of failure; between his melodic superpowers and penchant for oddball (but rarely weird for weird's sake) arrangements, Barbeau's music is unfailingly interesting. Of course, listeners with a low threshold for lyrical playfulness might be put off by silly songs like "Raino Disco ('Bout the Raino,)" "Quorn Fingers" and "Bending Like a Spoon," but they shouldn't dismiss him because of a sense of childlike whimsy. (Besides, Barbeau records are like Loud Family albums—it's just not the same without the screwing around between more conventional songs.) Like spiritual compatriots Robyn Hitchcock, Scott Miller or—yes, I'll say it—Syd Barrett, Barbeau hides his feelings behind wordplay, but he's perfectly capable of lucid emotional moments. If anything, Plastic Guitar contains some of his most naked work—the marriage of melody and feeling on "I Used to Say Your Name," "Doctor Take Care" and "Boat Called Home" is what the phrase "music with heart" is all about. Even the remake of his old tune "Banana Song," while eye-rolling on the surface, has a desperate undercurrent that lifts it beyond mere novelty status. Barbeau is in full command of his considerable powers here, making Plastic Guitar one of the brightest highlights in a shiny catalog.
TERRASCOPE ONLINE
byJeff Penczak
The prolific Sacramentan's 13th album (and sixth in the last three years!) is another wild carnival ride of 60's pop, 21st century laptop bleeps, and sentimental bedsit fare. Barbeau's developed a nasally Bowie-meets Peter Murphy drawl over the years and this is the first thing that leaps out at you on 'Bending Like A Spoon' and the title track, but it's his knack for crafting irresistibly catchy melodies that will stay with you as you proceed through these dozen tracks.
While Kimberley Rew stops by to provide the "cat yowl fadeout guitar" (on 'Doctor Take Care'), it's his Soft Boy partner Robyn Hitchcock that might spring to mind on that infectious title track. Even the melancholic heartfelt ballads (like 'Dear Miss') are tinged with a spirit-lifting, upbeat melody not unlike the brokenhearted ditties that Robert (The Cure) Smith dashes off with such aplomb.
Years of touring tea shops and stone circles throughout Britain have imbued his work with a very British sensibility, most evident on the quietly introspective bedsitter images created on tracks like the aforementioned 'Dear Miss' and 'I Used To Say Your Name,' featuring Barry "The Fish" Melton on guitar. Al Stewart, Nick Drake, and Bert Jansch may have been quite influential on this aspect of his songwriting, which has resulted in one of his quietest albums to date. The occasional downbeat mood is lifted considerably by Ant's vaudevillian barrelhouse piano stomping on 'Quorn Fingers,' which sounds like the background music to one of those extended (silent) Benny Hill skits.
Not everything is successful: the goofy vocal improvisations and sound effects on 'Quorn Fingers' are unnecessary, while the childishly silly 'Banana' is immature and musically challenged and sounds like something John Lennon and Harry Nilsson tossed off in the midst of a three-day bender. But there's enough carefully constructed arrangements and warm, self-reflective tunes to warrant repeated listens. Overall, it's another well-crafted variety of tunes for fans of vintage Bowie, Drake, Stewart, Hitchcock and similar singer/songwriters.
RUSSELL'S MUSIC REVIEWS
"Boat Called Home" is a lovely melancholic thing, the aural equivalent of a mist over a lake, sung by a dewy eyed singer. "Raino Disco" is the fantastic centrepiece of the album, eight minutes of spacey spectral psych. Finally "Banana Song" is a bit Lennon still sneering, look at me. So there we have it, another Anton Barbeau album, one that will please his fans for sure.
DREAM MAGAZINE
Another dozen psychedelic pop jewels from the ever prodigous Anton Barbeau. This album was recorded in Oxford, Cambridge, and his hometown Sacramento. Guests include Kimberly Rew (of The Soft Boys, and Katrina & the Waves), and Barry Melton (of Country Joe & the Fish) on a track each. The Melton-featured track "I Used to Say Your Name" is among the highlights, with a haunting refrain and the feel of a lost jangling-period REM song of lost love.
Yet another winner from the psychedelic troubadour whose unique and brilliantly produced music usually showcases a glittering extrovert, drunkenly swaggering through the best of British pop, rock and folk to build something marvellous, chaotic and colourful as seen from America's West Coast. Usually.
If 2007's Apple Sun was Ant's Sgt Pepper then Plastic Guitar is probably his Let It Be, or maybe his Abbey Road. Mellower than previous works, it offers Ant as introvert: a man doing a lot of thinking and re-assessing.
I quote those later Beatles albums (the Fabs are name checked in at least two songs—and you'd swear they're doing harmonies on 'Better Drink Your Water') because, towards the end, they wrote songs that sounded less like pop and more like hymns—and there really is no hiding the fact that Ant has been thinking about God. 'Boat Called Home', 'Say It With Ease' and 'I Used To Say Your Name' (with its incredible electric guitar by Barry Melton) brings 'god' to the fore in a way that no other Ant album has. I don't know if he's just 'got' religion, always had it, or is just using 'god' as a focus for introspection, but this new preoccupation renders much of Plastic Guitar elegiac and thoughtful. And, like those later Beatles albums, this is also a less psychedelic offering from Ant.
But, don't worry, it's still chaotic and marvellous, and the fun's still there: in the lyrics and uncorrected vocals (stand up Su Jordan) of 'Banana Song', the psychedelia of 'Doctor Take Care', and the insane whimsy of 'Quorn Fingers' (this album's 'Revolution # 9'). The catchy tunes that Ant so brilliantly crafts are here, too; the title track ploughs along like folk meeting new wave; amusing stalker love-song 'Dear Miss' expands in the mind the more you hear it (sounding like Lennon and Bowie should have done when they recorded together in the 70s); and 'Bending Like A Spoon' is a mini-epic, of intense guitaring. In fact, it's the guitars that, quite appropriately, drive the album forward, solidly and efficiently, without being showy. One outstanding example is the work in 'Eye Kinda', another very Lennon-sounding song. But Plastic Guitar's standout track is 'Raino Disco', whose drum machine, bass and looped vocal samples produce a brilliantly hypnotic, pulsing groove. This is a very modern psychedelia that only leaves me with anticipation for the day Anton records his White Album.
SAN DIEGO READER
by Andrew Hamlin
Genial Sacramento eccentric Anton Barbeau travels to England for this one, and writes about same for his first song, no less. Other selections highlight the thin line between Esperanto and joyous gibberish, with backwards- and impossibly basso background vocals tossed up and in like kippers for a salad. When essaying a disco song he dredges one impressive funk-booty bass line but calls "rain" the "Raino" so as to agitate scansion. He also drags in two samples, one of a comely sounding lass intoning "mouth on mouth," the other of an even-comelier-sounding lass saying "tongue," and for all the incessant repetition, it sounds just a little bit more like a party than a porno.
One forgives Anton almost anything; his mesmerizing gift for catchiness keeps even his excesses from aggravating. The added conundrum on his latest comes from the forthright Jesus kick. That's the Man from Galilee getting name-checked on "Say It With Ease," and the Man's big bad daddy appealed to on "Boat Called Home." The newfangled religion throws other pieces into a certain relief—"Banana Song" gets a throat-scratchy reworking from the festive original ten years back, as the feeling mounts that the "you" supplicated to in the lyrics equals the "you" in Bob Dylan's firmly gospel "I Believe In You." Bob wants his personal mistreatment enshrined as devotion and Anton wants a banana for his sins. I think you call that the singularity of individual souls.
Bracing, yes, and a bit baffling, until you remember Anton was always three-dimensional. I am no Christian, and I'll stop there on that, but by the time you hear deeply it's too late for hate. I'll take him under my wing and tell him it's not time for him to die. If that is what he really needs.
© Anton Barbeau. Photo of Anton by Karen Eng. Web site: interbridge.
Support Anton on PayPal: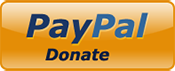 Available now: