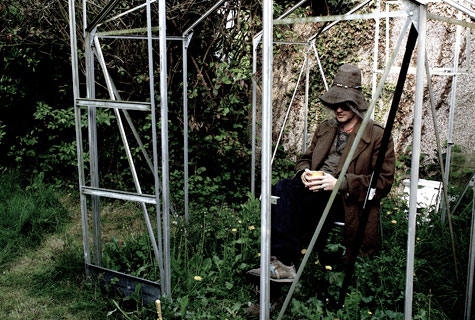 Reviews: Psychedelic Mynde of Moses
PSYCHOTROPIC ZONE
by Dj Astro
I've been some sort of an Anton Barbeau fan ever since he released the King of Missouri CD on Woronzow backed up by The Bevis Frond, one of my absolute favorite bands. The man has released so many albums in these eight years that I have not been able to get them all but I have never been let down by any of his albums that I have heard. This singer/songwriter/guitarist (or "songwriter/musician/microcosmic pioneer" as it says on his business card) that was born in Sacramento, California and has now relocated to the UK is one of the most talented makers of psychedelic pop and rock in our times. The best ingredients of the melodic psych pop of the 60's (The Beach Boys, The Beatles etc.), the sensitiveness of folk and the hypnotic elements of kraut rock are combined in a great way with more modern indie rock and even some electronic influences in his catchy music.
Recorded in various locations in the States, England and Germany, Psychedelic Mynde of Moses includes 14 tracks. First we hear the album's superb, catchy and up-beat title track that has some gorgeous melodies and a full band and has been mixed by Paul Tipler who has also worked with Julian Cope for example. I must say that this is one of the best songs I've heard in years. The slower "Bend Your Mind/The Un-Mothered Stone" is at its best on the final section that has acoustic guitar and cosmic keyboards. "Fuzzchild" is a nicely grooving, fuzz-filled diamond that has little psychedelic details. I can somehow hear some sitar in my mind although there is none of that on the track. Strange. The bit lighter "Reasonable Freq." includes funny, introspective lyrics like many Anton's songs do. "Skunk Hungarian" rocks a bit like the faster Bevis Frond songs and the melodies are as good too. "Light Inside" is a dark, more experimental short track and "M'bira" even shorter, minimal acoustic piece. On the next, slow track "Cosmic Rockery" the heavy fuzz levels are high again and "The Old Doctor's Bag" is a psychedelic, experimental and whacky thing. "The Well" is an under one-minute-long ambient piece played with Reason synthesizers and "Doctor Don't Chop My Knee Mama, Ouch Is Another World" puts on the rock gear again although in a humoristic mode. On the acoustic-driven, slow-paced "Drunk Again" Ant and the female singer keep on promising never to be drunk again. Yeah right... A great song, anyway. Even more purely acoustic song is the beautiful and touching "Eye and I" that also has cello and here Anton's singing really shines through. Finally we've got the hypnotic "Know That the Water Is With You" that includes drumbox and bass synth and somehow reminds me of the 80's Gothic pop and leaves the listener in rather dark but still pleasant moods. This is another excellent album by Ant and you should all get it soon!
I've been following Anton Barbeau's work since 2006, when he released two rather wonderful psychedelic albums: Drug Free and the staggering In The Village Of The Apple Sun. Since then, I've dipped into his back catalogue and kept up with new releases. Since 2007 we've had the more than adequate Automatic Door (with Su Jordan) and Bag Of Kittens, which he produced for some time cohort Allyson Seconds (an Ant album in all but lead vocals—a good one, too). His last album, Plastic Guitar, came as something of a shock though; Apple Sun had been Ant's Sgt Pepper, I felt, so Plastic Guitar wasn't the White Album I'd been expecting. It was more of a Let It Be and as undoubtedly solid as it is, I haven't played it as much as his other stuff. Ant had moved into deep, introspective territory that threatened to stifle his chaotic groove…
Thankfully, this latest album answers all my prayers by placing Ant's delicious Anglophilic, Californian whimsy up front, thus setting his psylicibic mojo free. Conceived as a proper follow up to the still pretty unassailable Apple Sun, Psychedelic Mynde is definitely up there. From the opening, title track onwards, Ant's trademark wit, skill and inventiveness burst with livid colour throughout the album; his treacly vocals are richer and stronger than before, and the catchy, trippy guitar work is his best so far.
Of 14 tracks there are 11 strong songs here, from the grinding drive and hippy flute of "Skunk Hungarian", through the crunchy Metal distortions of "Cosmic Rockery" (an Apple Sun outtake) and the beautiful (mainstream?) balladry of "Eye and I", to the wonderful openhearted plea that is "Reasonable Freq.". "The Light Inside" is eerily apocalyptic (with ritual drums, fuzzy guitar and Lara Miyazaki vocal), while "Drunk Again" and "Know That The Water Is With You" only prove my repeated assertion that Ant's voice works best alongside a female vocalist (in this case the wonderful Allyson Seconds).
But the album really comes alive when giving way to the vibrating transcendentalisms of "The Un-Mothered Stone" and the Glam-Psychedelic stomp of "Fuzzchild" with its insane vocal percussion and guitars to knock socks feet and legs off. This is surely one of Ant's best tracks to date and truly captures the Apple Sun vibe. Frankly, I love this endlessly creative and beautifully tailored album. I also know that I'm going to love it more and more and more and more.
SHINDIG!
by Marco Rossi
On the fish-eye face of it, the latest album from Psacramento psyche psage Anton Barbeau nails its colours to the mast with a dayglo squeaky hammer, from its Gnostic title to its Madcap-referencing sleeve. Hell, Anton even totes a Daliesque Danelectro 3021 just like Syd's. However, Psychedelic Mynde is in fact more multi-faceted than the prism through which Vic Singh shot the Piper at the Gates cover photo.
An enlightened commingling of paganist acid-folk woodcraft, krautrock density and bubblegum immediacy makes this an exceptionally persuasive listen. You could blind-date any well-informed listener with, say, the looping and loopy 'Fuzzchild', and they might guess it was MGMT on an exceptionally good day, while the russet-hued loveliness of 'Eye and I' rivals the Kinks for delicious end-of-season melancholy.
The super-saturated riffing of 'Cosmic Rockery' condenses The Swans and The Flaming Lips into one five-minute primeval stock cube, and the self-referential 'Reasonable Freq.' is a paragon of existential grimsy.
MIDTOWN MONTHLY
by Dennis Yudt
Having been several pots of Darjeeling since my last encounter with this fine lad, it has made my flippin' day/week/month to be gifted with a new Anton to cup cochlea to. And to the screaming young hoards and throngs of ne'er-do-well's, I attest—no—affirm, that this is THEE one y'all been waiting for.
From the Barrett 'Madcap Laughs' homage on the cover to the very last mille-second of audible sound, this CD is a solid punt in the trousers and deserves your undivided attention. Why? Anton Barbeau is everything you love about UK psych-pop but made by a guy from Sacramento that's living in the UK. Syd-era Floyd, XTC, solo Lennon, Soft Boys/Robyn Hitchcock, Incredible String Band and heck, even early Flying Nun and Paisley Underground stuff and hey, what a cool sentence that was, huh? Nice to hear the sonics stretching out some—thumb pianos, the four-second John Bonham drum tribute (you'll know when you hear it), and, uh, kitchen fans. And the wordage is as confusing/enlightening as a mouthful of tongues. If somehow you can picture the half-way point between XTC's Black Sea and ISB's Wee Tam, which this is, you really need this album.
Psychedelic Mynde features some yahoos that you, the well-groomed loiterer, might know: Mike Urbano, Greg Brown, Alyson Seconds, Andy Metcalf (who along with Morris Winsdor are both ex-Soft Boys and Anton's new bandmates) and Lee Amir (hey Lee!).
Fans of Anton will be puddles of gush. Trust me. I look forward to splashing in you.

THE BIG TAKEOVER
by Michael Toland
The pop culture landscape is littered with world-class talents that deserve much wider recognition that they actually receive. Rather than once again lament the state of the arts & entertainment world that can allow such a thing to happen, we'll instead direct your attention to one of those talents: Anton Barbeau. While the Sacramento-bred musician/songwriter has found a growing audience in England and Germany (to the point where he's taken up semi-permanent residence in Merry Olde), he's yet to gain the cult following he should have in his own country. Frankly, that's baffling, given the degree of talent on display onPsychedelic Mynde of Moses, his thirteenth record.
Barbeau's multi-instrumental facility paints the songs in all sorts of interesting colors; rather than a virtuoso, he's a supremely tasteful sonic architect. His lyrics tend toward the eccentric—Barbeau is one of the few modern songwriters who can capture the 60s sense of whimsy without sounding silly or dated. "Doctor Don't Chop My Knee Mama, Ouch is Another Word" isn't even the weirdest lyric, but it fits the music snugly, and his perfect pop voice delivers it with cocked-eyebrow conviction. But what truly makes Barbeau special is his melodic sense—everything he does walks arm in arm with memorable hooks and instantly appealing tunes. Just try not to hum along with the folk rocking "Eye and I," the caffeinated "Reasonable Freq.," the power popping title track or the lush "Drunk Again." There's no reason in the world that fans of the Elephant 6 crew, XTC, the Green Pajamas or Robyn Hitchcock(whose old Egyptians compatriot Andy Metcalfe is a frequent collaborator here) wouldn't clasp Barbeau to their bosoms, especially not after hearing the marvelous Psychedelic Mynde of Moses.
THE SUNDAY TIMES (LONDON)
by Stewart Lee
Anton Barbeau's 14th album finds the Sacramento songwriter still in thrall to a litany of lysergically tinged legends, with the bare-bottomed lady in the background of the cover picture echoing the photoshoot for Syd Barrett's The Madcap Laughs. Psychedelic Mynde of Moses's title track is another of Barbeau's midget acid-pop gems, with swirling vocal harmonies and driving bass from the Soft Boys' Andy Metcalfe. The loping "Drunk Again" has the dreamy carnival flavour of more bucolic XTC albums and Sgt. Pepper. If oddly inappropriate synth sounds sometimes break its spell, Barbeau's latest missive continues to reinforce his cult status.
They say that you can tell a lot about a person by the company that they keep. If this is indeed the case, the fact that Anton Barbeau is currently undertaking a jaunt around some of the UK's choicer venues with Andy Metcalfe and Morris Windsor in tow speaks volumes. Who better than the rhythm section who helped create the jangle punk-pop vibes of The Soft Boys and who constituted 50% of Robyn Hitchcock's Egyptians to bring alive his latest offering, Psychedelic Mynde of Moses. You must be going somewhere pretty cool when underground pop royalty are signing on for the ride.
Although clearly built from a love and appreciation of all things 60's, this is no retro pastiche or blatant plagiarism. What it is, is a great collection of hooks and tunes that wander between surreal Beatle-esque cartoon soundscapes, infectious stoner ditties, melted sugary folk harmonies and warped pop tunes, all the while under pinned by lyrics that run the gamut, from humorous word play to downright lunacy. The title track is the sort of thing that George Harrison should have written to re-establish his career in 1970, "Eye and I" could be early Bowie in reflective mood and "Cosmic Rockery" is what I should imagine it was like to be in Syd Barrett's brain. And in between these tracks strange little experimental pieces of keyboard or even thumb piano wander unexpectedly through, more retro weirdness but somehow wonderfully in keeping with what surrounds it.
When he decides to take it up a notch and rock out the results are even better. "Fuzzchild" takes the hippy anthem and buries it under some wonderfully overdriven guitars and "Skunk Hungarian" is just a brilliant, almost straightforward, power pop tune. I have to mention the oddly titled "Doctor Don't Chop My Knee Mama, Ouch Is Another Word," mainly for the madness inherent in the title but also because it's another stonking slice of garage rock.
This is a testament to the decade as it didn't really exist. It sidesteps the conformity of the early years, is clever enough to avoid revelling in the twee sentiments of the Summer of Love and stops short of the oppressive atmosphere of the Altamont swansong. This is the sixties for the 21st century!
If there were a modern day prodigal son created from the lineage that links Julian Cope, Andy Partridge, The Beatles, early Pink Floyd and even Frank Zappa, then Barbeau is a hot contender for the title.
© Anton Barbeau. Photo of Anton by Karen Eng. Web site: interbridge.
Support Anton on PayPal: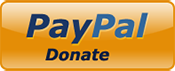 Available now: