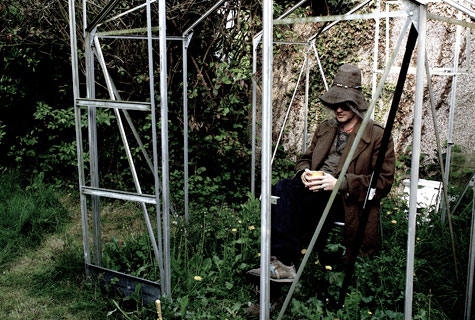 Reviews: Three Minute Tease: Bite the Hand
THE BIG TAKEOVER
by Chuck Foster
Building on the strength of their 2011 eponymous debut, Three Minute Tease, the Pan-European trio of songwriter Anton Barbeau with Soft Boys/Egyptians alums Andy Metcalfe and Morris Windsor, deliver an even better sophomore effort that effectively blends psychedelic pop with glam rock and power pop.
Bite The Hand explodes in a flurry of pop sensibilities emboldened by psychedelia's mind expanding freedom. Beginning with the Ray Davies-like sneer of "Bravely Fade Away," the songs range from Monty Python humor ("Drinking Horn," "Coffee That Makes the Men Go Mad") to wistful reflection ("Tie My Laces," "Beanpole"—the latter perhaps a nod to Barbeau's former Sacramento-based contemporary) and even outright bitterness, as in the powerful reworking of Barbeau's solo staple, "MTV Song." Throughout, Barbeau tells his tales in his unique vocal blend of Marc Bolan and David Bowie with a touch of young Roger Daltrey. A work of pure energetic brilliance, the songs continuously reveal something different with each subsequent listen.
It would be easy to lump Three Minute Tease in with Robyn Hitchcock, Julian Cope and XTC, but Barbeau, Metcalfe and Windsor are off on their own trip. Hop on the purple lily pad and ride down the rainbow river past the haloed sunflowers…
Three years on, Bite the Hand is more eccentric than its predecessor, highlights including Drinking Horn, with its refrain of 'Look at me now!', When I Was 46 In The Year 13 and Tell Me; while possibly lacking Three Minute Tease's peaks, it's still a strong album overall. Plenty of (going by the above, presumably real) Mellotron, played by Barbeau and Alexandra Simon, with choirs on MTV Song, distant string notes on Drain The River, occasional block string chords on Beanpole, a complex flute part on Ciao Ciao Chicken, choppy flutes and distant choirs on Coffee That Makes The Man Go Mad and chordal choirs on Tell Me. And how about those mandolins on When I Was 46 In The Year 13? Sort-of Mellotronic, but a most unusual sound to find on a tape-frame...
BLISS AQUAMARINE
by Kim Harten
Second album from Three Minute Tease, the band Anton Barbeau formed with Andy Metcalfe and Morris Windsor of The Soft Boys and Robyn Hitchcock & the Egyptians. The album also features guest appearances from various other musicians and vocalists, most notably The Bevis Frond's Nick Saloman. "Drinking Horn" is a jaunty, then lazy-hazy, psych-pop song about evolution, with the sort of lyrical wit that could only come from the mind of Anton Barbeau. "MTV Song" is an effectively off-the-wall mix of powerpop, 1980s heavy metal riffage, Mellotron, cheery la-la-las, and an angelic choir. A bizarre concoction for sure, but it works. "When I Was 46 in the Year 13" is catchy off-centre pop that makes two years ago sound futuristic. "Tie My Laces" sets a 1960s Californian folk-rock-esque melody to a laid-back and sophisticated mix of piano, trumpet and cello. "Coffee that Makes the Man Go Mad" is lopsided folk-baroque-psych-pop with an on-edge, manic mood suggestive of the effects of caffeine. "Tell Me" combines laid-back and dreamlike pop with Nick Saloman's powerful and intricate psych guitar work. Other tracks here tend to fall into the powerpop category, but thanks to Anton Barbeau's inimitable songwriting skills, the songs completely avoid the formulaic structure that genre sometimes suffers from. Another top quality set of songs from Anton Barbeau and his associates.
SHINDIG
by Marco Rossi
How many more reasons do you need to usher Anton Barbeau straight past the bouncers outside the paisley-wallpapered inner sanctum of "pre-apocalyptic-psychedelic-pop" godhood? For the uninitiated, of whom there are too many, Three Minute Tease teams the Sacramento sage with the former Robyn Hitchcock & The Egyptians rhythm section of Andy Metcalfe and Morris Windsor—an emblematic vote of confidence to gold-plate any CV with—and the Bevis Frond himself contributes a suitably questing guitar cameo herein to 'Tell Me'.
Whether it's the droll fatalism of 'Bravely Fade Away' ("you're still gonna die at the end of your life, if not sooner"), the bierkeller anomie of 'Drinking Horn' ("I ended up in Berlin town, I love the way the city brings me down") or the subtle involutions of 'Tie My Laces', Barbeau's wellspring of inspiration seems limitless. Inimitable songs burst from him like bats from a haunted cave—and the sooner you pick up on his transmissions, the fuller your life will become.
STEREO EMBERS
by Dave Cantrell
Anton Barbeau's meet-up with erstwhile Soft Boys Andy Metcalfe and Morris Windsor pays dividends so quickly it actually did make my head spin, or anyway made me unreasonably dizzy... There was a time when Metcalfe and Morris' former employers (Metcalfe has also spent time with Squeeze) produced material of this caliber—all blooming pop suss with sharpened immortal hooks seeming to appear out of the ether—with an almost alarming regularity and effortless élan. That time has come again... Bite The Hand, in all its majestic seamlessness, in its playfully deft blend of conjured pop idealism and the unvarnished hard truths often wrapped inside its twinkling exterior, certainly qualifies, from SEM's vantage, as perhaps 2014's most overlooked album. I fault myself for not giving this record its proper attention back when it arrived in my inbox in late October. I feel rather self-aggrieved, if that's possible, and strongly recommend you don't make that same mistake. Get this now. It's hard to think of a better record to build a new year on. [Read the full review here]
BLURT
by Michael Toland
Singer and songwriter Anton Barbeau, born of Sacramento, late of Berlin, has made many, many fine records over the past couple of decades. The field he plows is a personal one, seeded, perhaps, by Syd Barrett and Robyn Hitchcock, but flowered by blossoms only he could have coaxed from the earth. A solid argument could be made, however, that he's reached his highest peaks with Three Minute Tease.
Joined by bassist Andy Metcalfe and drummer Morris Windsor—known a lifetime ago as Robyn Hitchcock's Egyptians—Barbeau makes absolutely marvelous power trio pop on Bite the Hand. The band's second LP contains some of the most straightforward rocking of Barbeau's career; "Beanpole," "Bravely Fade Away" and "Ciao Ciao Chicken" almost feverishly drive their hooks with surprising aggression, all without stinting on a stitch of melody. Things get more drenched in acid as the record progresses; "Tie My Laces," "Wave Hello" and "Tell Me" (featuring Nick "Bevis Frond" Saloman on lead guitar) essay grand psychedelic balladry, while "Coffee That Makes the Man Go Mad" swirls in its salute to mind-altering substances of all stripes. "Drinking Horn," meanwhile, jauntily meanders off into its own separate universe, its bouncy melody and witty wordplay pushing Barbeau into Cole Porter territory.
Bite the Hand is an always enjoyable, frequently brilliant collection, and yet another highlight in an always compelling career.
PITTSBURGH IN TUNE
by Jeffrey Sisk
4 stars out of 5
Anton Barbeau has earned a rabid cult following over the course of a career that's spanned almost 25 years and well over a dozen albums. In 2011 he teamed up with Andy Metcalfe and Morris Windsor of The Soft Boys/Robyn Hitchcock & The Egyptians fame to form all-star trio Three Minute Tease. They release a self-titled album that year and return with even-better sophomore set "Bite the Hand."
This record is a must for anyone who enjoys guitar-driven power-pop. Barbeau has dedicated the 11-track platter to longtime friend and musical hero Scott Miller of Game Theory, who died last year at the age of 53. It was at a Game Theory show many years ago that Barbeau, Metcalfe and Windsor first met.
Three Minute Tease come out of the gate firing on all cylinders with the one-two-three punch of "Bravely Fade Away," "Drinking Horn" and "MTV Song." They can't maintain that pace for the entire album, of course, but also manage to shine on keepers "Beanpole," "When I Was 46 in the Year 13," "Tie My Laces" and set closer "Wave Hello." Here's hoping this isn't the last we'll hear from these guys.
JERSEYBEAT
The opening track of this new album from singer/songwriter Anton Barbeau reminds me somewhat of Chicago's Bobby Conn, in the sheer theatricality of the song, and, particularly, the vocals. Backed by former Egyptians (of Robyn Hitchcock's band) Andy Metcalfe (bass) and Morris Windsor (drums), Barbeau puts on quite a show, worthy of at least an off-Broadway production. "MTV Song" sounds like it could have come right out of the glory days of the 80s for the Music Television outlet, so bubbly it is, with a strong backbeat and strong pop hooks. "Beanpole" is a particularly solid track, with definite psychedelic overtones, straight out of the 70s. "Ciao Ciao Chicken" is an awful title, but a great power-pop track. "Coffee That Makes The Man Go Mad" is one of my favorites on the album, with an epic sound and great melody and interesting lyrics. Quite an interesting listen.
© Anton Barbeau. Photo of Anton by Karen Eng. Web site: interbridge.
Support Anton on PayPal: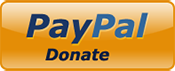 Available for pre-order: